110 years lineo artist brushes & 550 years Albrecht Dürer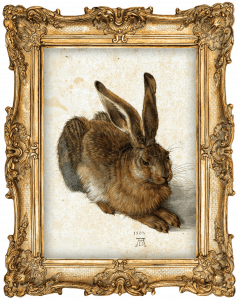 In 2021, we do not only celebrate 110 years of lineo artist brushes, but also the 550th birthday of one of the greatest artists in history – Albrecht Dürer (1471-1528). Therefore, we are happy to name our new series 1101 lineo Edition Albrecht Dürer. Born in Nuremberg, he is often seen as the most important German artist and has significantly influenced European art with his work. What connects us with Albrecht Dürer is not only art but also the geographic region. The art of brush making has been deeply anchored as a traditional craft in the region around Nuremberg for centuries. Maybe Albrecht Dürer himself laid the foundation for the development of this wonderful German craft.
Albrecht Dürers work
Albrecht Dürers work has significantly shaped and influenced the history and development of European art. His works are characterized by an extraordinary level of detail and a harmonious delicacy. Albrecht Dürer has also intensively worked on the theory of art like few before him. He has published several books as on human proportions or on the theory of geometry. To this day, he continues to fascinate and inspire artists all over the world.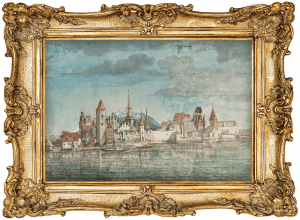 Dürer was the first painters to perceive himself as an artist – especially in today's sense. He was the first artist who used a monogram to brand his work. Soon, both the new self-perception as an artist and the use of a monogram as a trademark were adopted by artists all across Europe.
Albrecht Dürer is often referred to as the most famous artist of the Northern Renaissance. He succeeded in combining the lavishly detailed Nordic Style with the ideals of the Italian Renaissance. His artistic work includes more than 1,100 drawings, 108 copper engravings and etchings as well as 240 woodcuts and 90 paintings. Among the most famous works by Dürer are his 34 watercolor works. Interesting about these pictures is, that they were created without commission. Among artists, this was very contrary to the common practice at that time.
In watercolor, Albrecht Dürer paved the way for Independent Landscape Painting or Plein Air painting. The artists' perception of environment and the landscape becomes one with the watercolor. It allows to vividly capture the moment. The landscape, consisting of mountains, trees, waters and buildings forms a harmonious unity. Dürer was the first to paint his landscape watercolors (such as those from Innsbruck) in close proximity to the motif. This is recognized as a remarkable achievement in terms of art history.
lineo Edition Albrecht Dürer
The great love for nature and the devotion to detail are undoubtedly reasons for Dürers success. In the faithful representation of the beauty and the perfection of nature, Dürer should remain unsurpassed. Among the most famous works by Albrecht Dürer are his watercolors which have been great inspiration for us. They helped us develop a watercolor brush which truly deserves its patron.
For the watercolor brush series 1101 we decided to use synthetic squirrel hair. The aim was to create a brush that accepts nature and coexists with animals without making them its servant. Our synthetic squirrel hair is almost identical to natural squirrel hair. It is incredibly soft, has a very gentle bounce and is characterized by a wonderful color carrying capacity. The hair body forms a fine point that allows detailed work and precise brushstrokes.
The lineo logo is laser-engraved in the seamless silver ferrules. In its precession, it ties in with Dürer's attention to detail. The wooden handles have a nice finish with transparent varnish. Limited anniversary edition of 550 pieces. Each brush is handmade and numbered.

Technical Details:
Watercolor Brush Size 11
Finest synthetic squirrel hair
7mm diameter at ferrule
28mm visible hair length
Handmade in Germany
Limited Edition of 550 pcs with number
Characteristics:
High color carrying capacity
Soft hair with gentle bounce
Forms a nice point
Can also be used for detailed painting
Suitable washing techniques
lineo Edition Albrecht Dürer artist brushes will be be available exclusively at Gerstaecker from 01.09.2021.