New Product: Series 1001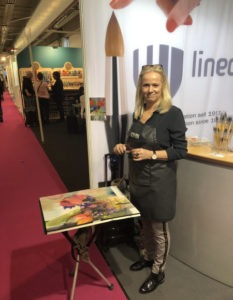 Creativeworld 2019 was a big success for us at lineo. Together with Elke Memmler, we presented our New Product 2019.
The sharp watercolour brush is inspired by Elke Memmler. This french watercolour brush is made from our newly developed synthetic squirrel hair.  It is crafted with synthetic quill ferrules, binding wire and a short natural-lacquered wooden handle.
This special brush has been developed together with the artist Elke Memmler. Painting with our Series 1001 feels just like natural squirrel. It is perfectly designed for the demanding artist.
The newly developed material is very soft and yet quite elastic. It forms a wonderful long tip once it is wet. The brush has a very high liquid holding capacity and has wonderful characteristics in releasing paint. At the same time, it is also able to absorb surplus paint.
Our 1001 Series is great for watercolour washing and can also perfectly be used for detailed painting on larger scales.
Available in the sizes: 4, 8, 12
Download our product information here.