Artist Brushes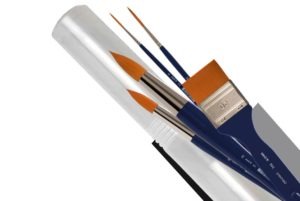 lineo brushes are one of a kind. They are manufactured by the brush factory Albert Bieringer since 1911. The traditional manufacturing combines the experience of the Franconian brush masters with high innovation power. Customer satisfaction is always at the centre of lineo's activities and is the driving force behind our quality standards.
Our artist brushes are appreciated all over the world. One of our secrets is the fine raw material that is being used for making our artist brushes. The fact that all of our brushes are handmade in Germany guarantees consistent, high quality. Not only do we produce our lineo artist brushes, but also Comet branded brushes. Our assortment is rounded off by our paint brushes, industrial brushes and special brushes. These are used in industrial production as well as traditionally by restorers, gilders and other demanding craftsmen.
Download our Catalogue or discover our artist brushes online.
Andreas Mattern
Expressionist Watercolour Artist from Berlin. https://www.andreasmattern.de/