Dental Brushes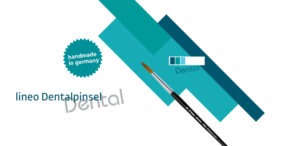 lineo brushes are one of a kind. They are manufactured by the brush factory Albert Bieringer since 1911. The traditional manufacturing combines the experience of the Franconian brush masters with high innovation power. Customer satisfaction is always at the centre of lineo's activities and is the driving force behind our quality standards.
lineo continuously develops its brushes in close partnership with leading dental specialists. The lineo dental series is suitable for precise work on your workpiece. We offer a suitable brush for every step of work, from the application and shaping of the ceramic material to the modelling of the teeth.
The exact adjustment of the brushes to professionals needs increases the quality and efficiency of your work. Take the practical test and see for yourself.
We are currently expanding and revising our range of products. An overview of all our products will be available shortly. Subscribe to our newsletter to see what we have been working on and to learn more about our new product launches.
For infrmation about our Dental Brushes and all further questions, please contact us.