Since many decades, synthetic hair and filaments are already being used for the production of brushes. At Mesko, we have identified the potential of such filaments at an early stage. In the beginning however, technical limitations did not allow the production of high-quality synthetic materials at a reasonable price. At that stage, it would not have been possible for us to produce brushes with synthetic hair. When we finally started research & development in this field, technology would eventually enhance as well. We were among the first brush makers in Europe that would use synthetic filaments for the production of professional paint brushes. In terms of know-how, this gave us a decisive advantage on the market. As prices for natural bristle started to hike, we would be able to compensate the increases by optimizing our mixtures and not by reducing the amount of filament being used per brush. As retail and professionals were sceptical in the beginning, we extensively started to do painting tests with renowned paint manufacturers. No significant differences in application and finish could have been identified and initial doubts were quickly dispelled.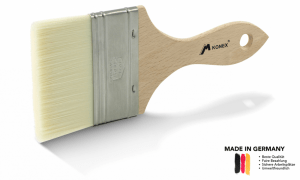 As a result, we continued to improve our synthetic filaments and hairs and to develop new materials. We want our synthetic filaments' painting characteristics to be similarly good as the characteristics of natural bristle. Our mixtures and pure synthetic brushes are already leading in the market and that's what motivates us to continue our work in this field. One of our latest developments is KONEX®. Special about this synthetic brush filament is the long, extremely delicate and soft tip. It is yet pleasantly elastic and relatively durable for such a fine filament.
Initially we have developed this material for varnishing and other highly specialized fields of application which require a perfectly flawless finish. Because of its characteristics and the consistently positive feedback from industry, retail and professionals, we have started to also use this material with artist brushes. We are already looking forward to present more products with our amazing KONEX® material.